The 2022 Subaru Love Promise Community Commitment Award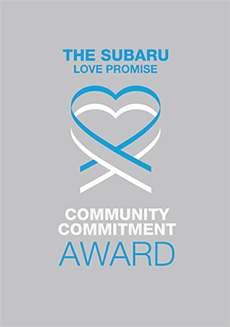 We've been nationally recognized for our dedication to our community and the Subaru Love Promise.
We're honored to receive the 2022 Subaru Love Promise Community Commitment Award. This award nationally recognizes Subaru retailers who are making the world a better place while demonstrating an outstanding commitment to supporting passions and causes in local communities. These efforts are focused in important areas such as the environment, community, health, education, and pets.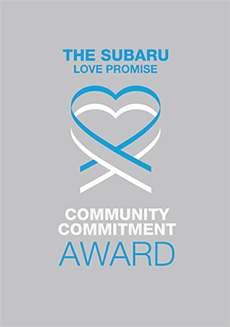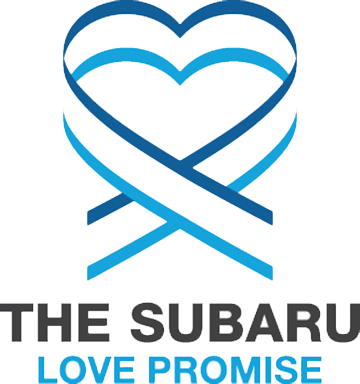 What is the Subaru Love Promise?
Subaru and our retailers believe in making the world a better place and the Subaru Love Promise is our vision of respecting all people. This is our commitment to show love and respect to our customers and to work to make a positive impact in the world.
How is Maple Hill Subaru dedicated locally to the Love Promise?
At Maple Hill Subaru, our Love Promise to the Kalamazoo area can be seen in the more than 25 events we sponsor each year. We are the Proud Title Sponsor of the annual Kalamazoo Holiday Parade and the Kalamazoo Family New Years fest for the arts. We opened the Maple Hill Mountain Bike Trail in august of 2017 at the Marken Glen Park. We even sponsor more than 3,000 local softball and little league players. We're grateful for the opportunity, not only to be a part of the Kalamazoo community, but to serve it as well.
SPCA of Greater Kalamazoo
Maple Hill Mountain Bike Trail
WMU Athletics, Mattawan Schools, Kalamazoo Public Schools, KVCC technical school, Kalamazoo Regional schools, Kalamazoo Tech Schools
Maple Hill Holiday Parade, Maple Hill New Year's Family Fest / Kalamazoo arts , Ribfest for ARC, Kalamazoo Volunteer Center, Bethany Christian Services, West Portage Little Leagues, Westwood Little Leagues, Mattawan Little Leagues, Portage Little Leagues
Make-A-Wish, Team Taylor, Hospice , West Michigan Cancer Center, Kalamazoo Loaves and Fishes Food Pantry, Mattawan Food Pantry
Love Promise Stories from Maple Hill Subaru
Subaru and Maple Hill Subaru believe in making a positive impact on the communities in which we live and work. We uphold that belief through our Love Promise Community Commitment. Every month, we select inspiring stories from customers and partners from around our area who strive to support our collective commitment and feature them here
Kalamazoo Experiential Learning Center - Deborah D
After a year without the now 59-year-old city tradition and this recent year still being debated by city officials, it looked like the tradition entrepreneur and philanthropist Irving S. Gilmore had started would come to a close. Maple Hill Subaru has been the presenting sponsor of the parade since 1998 when the parade was first in need of funds to continue. The parade had always been an amazing opportunity for everyone in Kalamazoo to welcome in the Fall and Winter holidays, kicking off a week or two before Thanksgiving. At its heart, the parade served as an opportunity for families of all incomes to participate and be welcomed by their community. Everything at the parade was and is free and has grown over the years to include an event day afterward including pictures with Santa, crafts at multiple stores, and popcorn and hot chocolate. Maple Hill Subaru then brought in the partnership with Kalamazoo Loaves and Fishes in the late aughts. This was a way to give back in another way to the Kalamazoo community asking families to bring change to make a change. Each year, little by little, it was cemented that the holiday parade was truly for everyone and supporting those most in need. In 2021, the talk of the city was that there was no one left to take the reins. The parade takes lots of time, energy, and resources and was seeing lower turnout each year. Our company had been let go from the parade planning a few years ago in favor of reducing costs, which, of course, had reduced quality. Maple Hill Subaru stepped up once again, talking to the city and taking over complete rights to the parade. (The parade is so important to Kalamazoo it is written in our town charter). They took on all the costs and the planning, brought in local business which hadn't been done to such a level ever, brought back helium balloons and music and was able to get the entire community involved once again. They paid for commercials that featured the participating small businesses that had never been able to afford a tv spot and brought down local food vendors to help support the staff-shorted restaurants with the influx of people. And people came. There were more people there than had been in the last 5 years. People who didn't forget the mission. The city raised more money for Kalamazoo Loaves and Fishes than any parade previously and then Maple Hill doubled it to $6,800. Maple Hill Subaru took an event that was important to us, to Kalamazoo families, and local Kalamazoo businesses and truly made it bigger and better than ever. In a time when covid had taken so much from our community, it was wonderful to be brought back together to celebrate the season safely and with nostalgia and pride.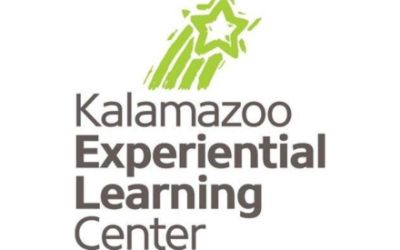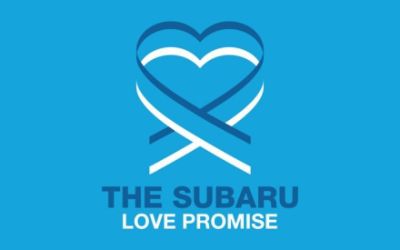 ---
Leukemia & Lymphoma Society - Lynn H
Dear Mr. VandenBerg, Thank you for the thoughtful Subaru Loves to Care blanket I received on behalf of Subaru's support of the Leukemia and Lymphoma Society. What a nice surprise! I was diagnosed with chronic lymphocytic leukemia nine years ago. During this Covid-19 phase of our lives, my immunity, even being vaccinated, is around 30-60% less than the general public. I have been told by my doctors to be vaccinated and then live like you are not. Needless to say, it has been very isolating for me. Getting your blanket was like a friendly hug. There are new treatments and therapies always on the horizon for blood cancers, thanks to Subaru's financial support. Many people are grateful for that contribution. the LLS is a wonderful organization. They have assisted me in many ways over the years such as with information seminars, answers to questions and help finding doctors. As a side note, I am a proud owner of a Maple Hill 2015 Subaru Forester. It has low mileage and still looks brand new both inside and out. It has been a great car, especially in our Kalamazoo snowy winters. Thank you again, and God's blessings to you. Sincerely, Lynn Haulland-Samuelson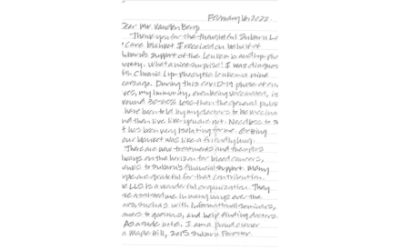 ---
"Love" the Performing Arts? - Deborah D
Is love community? Building traditions and having kids grow up on an event and then start to bring their kids to that same event might just be the marker of community traditions. Maple Hill Auto Group values family. Subaru values family. This is why Maple Hill has connected Subaru to a nifty event called New Year's Fest. New Year's Fest is a performing arts festival that specifically programmed for families. The event features bands, magicians, storytellers, jugglers, cultural performances, and interactive experiences. Each performance is 30 or 45 minutes and they provide snippets of the array of performing arts. The performers include local and regional performers who delight audiences with a unique blend of cultural arts performances. It never makes money, but Maple Hill Auto Group has been there since 1998; and each year since they help financially to make sure that families can build the tradition of celebrating together. Through ice storms, Y2K, blinding snow storms, and balmy (38 degrees) weather, Maple Hill Auto group is there to make sure that community is at the forefront with their support of money and additional advertising. They have a deeper pledge to make sure that people of all walks of life can afford to attend. This is a family first event; from the selection of the entertainment, to the experience that promises snippets of performing arts allowing the opportunity to try something new. We don't guarantee that kids will become classical music aficionados, but they might. Maple Hill Auto Group gives the performing arts a chance to capture the hearts of our greater Kalamazoo families.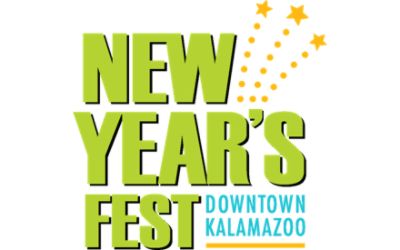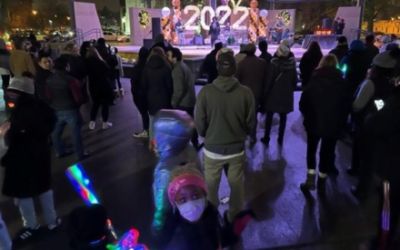 ---
Maple Hill subaru - Katie T
When we met Jim, the spca was a floundering non profit and I was new to my position. He kept an open mind and heart and listened to me about the organizations shortcomings, which were many, as there was fear we would close the doors. Jim was the first business to both internally and externally support the organization and shape it's success. With the dealerships help over a 10 yr period, we were able to clean up the mess that was made and save thousands of lives. With Jims help, we started a spay and neuter clinic, low income programs for pets, create media outreach, and he introduced me to EVERYONE, he single handedly got our feet on the ground and let us go running. With that help, we've become an award winning shelter, best practicing shelter two years in a row, and one of michigan's largest No Kill shelters. Even though Jim is no longer on the board, he is still always available for business questions, support, and continues to financially support the SPCA. We are extremely lucky to have met Jim and the dealership family, equally as important me is the personal growth they have helped me attain. The love and kindess that I've received has shaped who I am today, Jim continues to be an asset to save lives in the state of Michigan, and keep me inspired to keep going through support and lessons he'll share.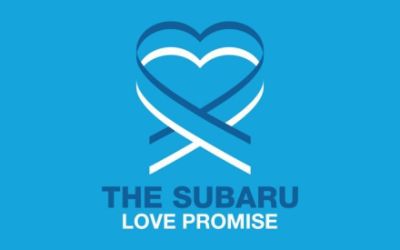 ---
Local Love and Support - Scott S
At the onset of the pandemic, we were concerned for our restaurant and employees. We were able to continue to provide carry-out and delivery. Maple Hill Auto Group supported us by ordering lunch for their employees several times. In addition, they promoted our restaurant, Kazoopy's, and other local businesses on their social media and TV adds. How fitting for a community so full of love and support. A heartfelt thank you to Jim and his team from all of us at Kazoopy's.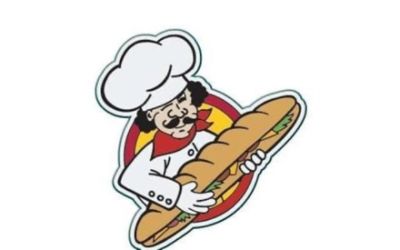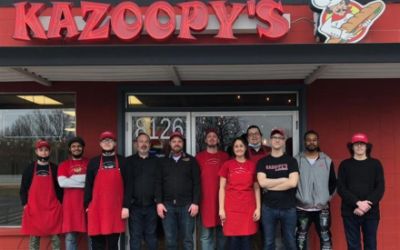 ---
Maple Hill Supports Local Restaurants - Kassidy N
In 2020 during the pandemic, Maple Hill Auto Group supported many businesses by ordering lunch for their employees at least once a week from local restaurants. My husband and I own Kelvin & Co. Urban BBQ and we were honored to provide them with a a handful of lunches during that time. The support of our small, local business meant the world to us. They would also post on social media to showcase the restaurants they were supporting to promote their businesses. Maple Hill Auto Group is the only large company in our area that supports other local businesses on this level. They could choose to use their resources to help themselves but instead they help others during a very uncertain time. Thank you Maple Hill!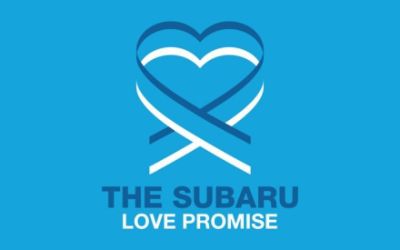 ---
Loaves and Fishes Christmas - Jordan S
I'm so very proud of where I work and the people I work with. 2020 has been a year like no other we have seen. So much has happened and so many things have changed, sometimes daily. One thing that has stayed true throughout it all is the determination and hard work put forth everyday by the people I get to work with. Last week I put out a call for donations. Asking for money is never easy, let alone in a time of uncertainty and doubt like we've all experienced over the last 10 months. Turns out, it wasn't hard at all. Within minutes I had people flagging me down in the halls ready to donate. We knew that food banks would be seeing unprecedented demand, and therefore our giving would also need to reach limits we hadn't seen before. Thankfully we were able to take advantage of Meijer's Simply Give Donation Cards and most importantly, their "double match" they offered last Saturday. Between employee donations and a few close friends and family, we were able to raise $3,160 for Kalamazoo Loaves and Fishes. Thanks to Meijer, and their Double Match, our $3,160 became $9,480 in food gift cards for Kalamazoo Loaves and Fishes! I'm not too proud to tell you it was hard to hold back tears of joy when I shared the totals with our team today. I'm humbled, proud and thankful for the crew that Jim VandenBerg and Monie Vandenberg have assembled at Maple Hill Auto Group. They have given us the means and set the example we strive for every day. Thank you to everyone who donated; Diane Rich-Kiel the enforcer, Andrea Walker the collector, Abigail VandenBerg the inside woman, to Portage Printing, for donating the super cool oversized checks, Lisa Luebke for helping me coordinate behind the scenes and Meijer for giving us the opportunity to maximize our impact on the community that we cherish so much!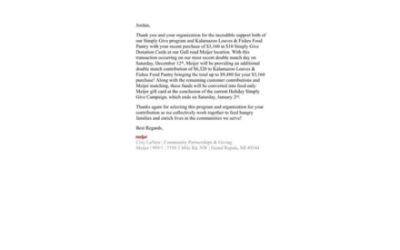 ---
SPCA Donations - Katie T
Unfortunately, due to COVID Maple Hill Subaru couldn't put on their annual golf outing and auction for our organization, the SPCA of Southwest MI. This golf outing brings in an average of $40,000 a year and has brought in over a quarter of a million dollars for us throughout our partnership. We rely on this money for life saving surgeries, intake programs, and community programs that make our organization stand out. We are the number 1 no-kill shelter in the state of Michigan because of these programs. This year, we put our heads together and came up with a virtual donation program that would be able to take the place of the golf outing. Maple Hill produced a commercial and ran it on our local news station asking for donations from community members throughout the month of August. They also flooded social media with donation posts and opportunities. Maple Hill Subaru promised a donation match up to $10,000 for our organization. They had many of their previous golf outing sponsors still donate what they could and asked for donations of any size from the community. We had hundreds of people donate anywhere from $1 to $2,000 and we ended up raising over $20,000 within the community! With Maple Hill Subaru's $10,000, we were able to raise 75% of what we would have raised with the golf outing! Next year we will continue our tradition of the golf outing and auction and we hope it will be our best one ever! We are so thankful for Maple Hill and the Kalamazoo community for their efforts during such a difficult time.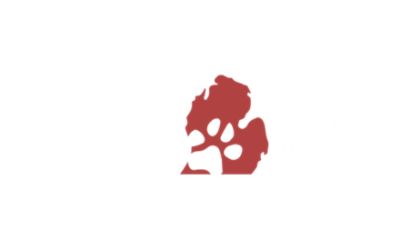 ---
COVID Lunches - Abigail V
It has always been rewarding to work for a Subaru dealership with all we are able to give back to our community but this time came with an extra benefit! Twice a week during the COVID lockdown, Maple Hill Subaru bought all the staff lunches from local restaurants. The state of Michigan locked down far stricter than most at the beginning of the pandemic. Dealerships, small furniture stores, flower shops, garden centers, and restaurants, all couldn't sell their product in store or online. Money was taken directly out of the small business market, out of the pockets of our friends, families, and neighbors, and given to box stores which were allowed to operate. Communities like Kalamazoo, communities that rely on small businesses to fund our charities, schools, and churches were left floundering. During a time when Maple Hill Subaru had very little to give, they still went above and beyond to support the Kalamazoo local business community and to thank their essential workers. The lunches averaged $18 per person and showed off the unique cuisine of many local restaurants we had never tried before! Twice we even got to taste authentic Malaysian food from the restaurant of one of our technician's families. The restaurant also got a 30% tip on every lunch which put community give back to over $1800 every lunch day. This added up to over $25,000 back into the Kalamazoo community and free lunches on the plates of essential workers at the dealership. Additionally, Maple Hill Subaru made commercials supporting local businesses with no cost to anyone but Maple Hill Subaru. We spent all our advertising budget on over 1000 spots in 2 months on local news channels constantly reminding our community members to give back. Pay it forward. Shop local. Businesses showed in this commercial included local restaurants, hardware stores, and grocery stores. Maple Hill Subaru put over $45,000 back into the Kalamazoo community, which was extremely necessary to keep the culture of our city intact. Every business Maple Hill Subaru supported was able to open their doors to the public when the lockdown was lifted. Unfortunately, not every business in the community was able to do the same. At Subaru, we often talk about the importance of giving back to the less fortunate but rarely do we find ourselves in a situation in which we might be the less fortunate. We at Maple Hill Subaru struggled. We couldn't get any inventory off the lot because it was illegal to sell it, transport it, or auction it. Service was slow, only other essential workers bringing their vehicles in, taking away a large part of our customer base. It was a really difficult time that could have torn a lot of communities and businesses apart. Instead, we buckled down. We knew that when we worked together when we supported each other and the places we lived, we could make things better. And we did. The owner, Jim VandenBerg, said one day, "I've never had so much fun losing so much money." And that's true. We were not making any money. No one in Kalamazoo was. But we didn't dwell in it. We celebrated each other, we celebrated our resistance, and we celebrated making it one more day. We celebrated with food and we shared what prosperity we could with Kalamazoo. Because we know one thing above all to be true here at Maple Hill Subaru, we only make it out of hard times when we make it out of them together.
---
Vehicle Recall - GLORIA R
After my husband was diagnosed with cancer we received a notice that the PCV value for our 2019 Subaru needed to be replaced. Since we have owned prior Subaru Foresters this is the first time we ever had a recall on any. We received a call asking if we received the notice and explained we had, however, he could not be in contact with others since he was beginning to receive his treatment. To our amazement, all was handled very professionally by the dealer who sent a qualified certified technician who replaced the part in our driveway. This was a great service for us due to me ( his wife) who 2 yrs. prior had brain surgery and is not able to drive the vehicle. Just reminds everyone that just when you are about to give up in humanity due to everyone thinking about themselves, someone steps up and shows that there are great people left on this earth to amaze us. Thank you again for your service!
---